I'm sharing an adorable cat-themed amigurumi food pattern by guest contributor Constanza from Paw-Gurumis today. The Catsicle is a kawaii amigurumi crochet popsicle with cat ears!
This post contains affiliate links. I may receive compensation (at no added cost to you) if you make a purchase using these links. Photos in this post are © Constanza Prajoux/Paw-Gurumis and are used with permission. Yarn for the sample was generously provided by Paintbox Yarns.
About Paw-Gurumis
Constanza Prajoux has been creating little yarn creatures for about 10 years. Born in Chile 31 years ago, but still a kid inside, her love for weird, colorful and dark natured things, comics, music, and her friends inspire her to try to give each amigurumi a unique personality under the name Paw-Gurumis.
Show your support by following Constanza on Website | Etsy | Facebook | Instagram | Ravelry.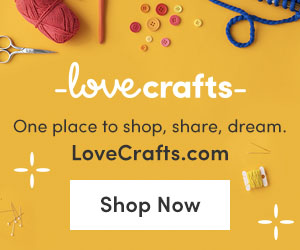 Catsicle
Amigurumi Food Crochet Pattern by Paw-Gurumis
Notes from Underground Crafter
This pattern uses U.S. crochet abbreviations. You can find a list of standard terms here.
Oombawka Design Crochet has helpful magic ring tutorials here.
Pattern pieces are crocheted in the round in unjoined spirals.
I recommend using the invisible decrease. Planet June has helpful tutorials here.
Add this pattern to your Ravelry queue or favorites here.
For this amigurumi you'll need:
Body (start with yellow and then change to green)
1.- 6 sc in magic ring (see Pattern Notes)
2.- 12 (inc 6 times)
3.- 18 (*inc, sc* 6 times)
4.- 24 (*inc, 2sc* 6 times)
5.- 24 (sc around)
6.- 24 (sc around. FO).
7.- Repeat from round 1 to 6, but do not fasten off. Join both pieces by crocheting them together. For this you need to put the first piece next to the one you are currently working on and make 24sc on it and 24sc on the new one, this way you have just one piece with 48sts.
8.- 48 (sc around)
9-19.- Repeat round 8. At the end of round 19 change to green yarn.
Put the safety eyes now, between rounds 15 and 16, leaving 8sts of distance between them.
20.- 48 (sc around)
21-30.- Repeat round 20. Start stuffing lightly.
31.- work a few sts until you are in the middle of the back of the body, and keep working on the opposite middle (front). Complete sc until you reach the last st at the back middle. You should have 24sts.
32.- 24 (sc around)
33.- 24 (sc around). Keep stuffing. Now you will sew the middle to give the popsicle shape to our body. Find the middle and sew it like pictured.
34.- 24 (sc around)
35.- 12 (dec 12 times)
36.- 6 (dec 6 times) FO. Do not close yet.
Repeat from round 31 to 36. Stuff as much as wanted and close both lower pieces. You might also need to close the holes where the pieces join and separate.
Ears. Make 2 (start with green and then change to yellow)
1.- 3 sc in magic ring (see Pattern Notes)
2.- 5 (inc, sc, inc)
3.- 7 (inc, 3sc, inc)
4.- 9 (inc, 5sc, inc). Change to green yarn.
5.- 11 (inc, 7sc, inc) FO. Leave a long tail to sew in.
Sticks. Make 2 (with Paintbox Yarns Metallic DK 04 Pina Colada)
1.- 5 sc in magic ring (see Pattern Notes)
2.- 10 (inc 5 times)
3.- 10 (sc around)
4-10.- Repeat round 3. FO. Leave a long tail to sew in.
Sew in the ears and sticks, embroider the face and you are done! Ready to enjoy what's left of summer!
© 2020 by Constanza Prajoux/Paw-Gurumis and published with permission by Underground Crafter. This pattern is for personal use only. You may use the pattern to make unlimited items for yourself, for charity, or to give as gifts. You may sell items you personally make by hand from this pattern. Do not violate Constanza's copyright by distributing this pattern or the photos in any form, including but not limited to scanning, photocopying, emailing, or posting on a website or internet discussion group. if you want to share the pattern, point your friends to this link: https://undergroundcrafter.com/2020/09/09/amigurumi-food-pattern-catsicle-by-paw-gurumis/. Thanks for supporting indie designers!