In this Cricut Basics post, I'm sharing the answers to the twelve most frequently asked questions (FAQs) about Cricut. I'm also sharing what's on my Cricut wish list right now, since several new products have been released since I started this series. Read on for your chance to win your own Cricut (because everything is better with a giveaway).
This post contains affiliate links. I may receive compensation (at no added cost to you) if you make a purchase using these links. This post is sponsored by Cricut, but all opinions and thoughts are my own.
Answers to the 12 Most Frequently Asked Questions about Cricut
If you're still contemplating whether you should buy a cutting machine, if you've decided to make the leap but aren't sure what machine to buy, or if you already have a Cricut in hand but are still a newbie, you probably have loads of questions. Here are the answers to twelve Cricut FAQs.
Question 1: What is the Cricut machine and what can I do with it?
If you're not familiar with Cricut (or with cutting machines in general), this post will give you a nice overview. I also reveal how to pronounce Cricut (so you can be in the know) and share more than 15 beginner-friendly projects that use the four major features of Cricut Explore machines: cutting, writing, printing then cutting, and scoring.
Question 2: How does the Cricut machine work?
I almost feel this question isn't necessary to answer because Cricut's come packaged with a starter project that walks you through the machine's features. But you wouldn't know that before you actually buy the machine, so this photo tutorial will walk you through the process.
Question 3: Can I upload my own images with Cricut?
One of my favorite things about Cricut's software, Design Space, is that I can upload my own images to write or cut. This post includes 40+ cut files. Choose one to make your next project.
Question 4: What different materials can I cut with the Cricut?
Cricut Explore machines can cut over 100 different materials. This post highlights just a few, and includes a write and cut project for a decorated magnetic photo frame.
Question 5: What different kinds of DIY projects can I make with the Cricut?
I think it's fair to say that the possibilities are pretty much endless in terms of the different projects you can make with a Cricut. This post shares a few options and includes another write and cut tutorial with magnet sheets.
Question 6: How easy is it to upload my own images with the Cricut?
In this tutorial, I show you how easy it is to upload your own images into Cricut Design Space (and how to design your own image using Canva, a free cloud-based program). You can use the same steps I did to make your own quotable t-shirt, tote, or other project with iron on.
Question 7: Will it be easy for me to use the Cricut software to create Make It Now projects?
The short answer is yes. But in this post you can see how I used a Make It Now project for a pencil roll to make my own crochet hook roll.
Question 8: Will it be easy for me to learn the Cricut Design Space software to create my own custom projects?
Learning Design Space is very straightforward. In this post, I share how I used customized Cricut Washi Sheets to decorate my craft supplies.
Question 9: How is the Cricut different from competitive cutting machines?
In this post, I share my own impressions based on working with other machines. I also interview and quote other bloggers who use cutting machines by different manufacturers.
Question 10: Will I be required to use cartridges with the Cricut?
The short answer is no, but if you already have cartridges from an older machine, this post will show you how you can use them with your new machine.
Question 11: What tools and accessories do I need to use a Cricut and how much do they cost?
I share my favorite tools and supplies for the Cricut in this post, along with a yarn lover cut file.
Question 12: Will I use a Cricut machine enough to justify the price?
I think the answer is yes! I explain why in this post, and share 60+ tutorials and cut files for fabric and yarn lovers that will help you decide for yourself.
Do you have another question about Cricut machines? Let me know, and I may answer it in a future post.
What's on my Cricut wish list now!
Since I started my Cricut Basics series, Cricut has released several new products that I've added to my wish list.
I kinda knew I was in love when I saw the Rolling Craft Tote and Machine Tote online, but seeing them in person at a Cricut Crafternoon in May sealed the deal. Since I frequently take my Cricut on the subway, this would be a great way to protect it. If you plan on traveling to craft nights or events with your Cricut, this could be a great investment.
If you make projects that require a lot of weeding, like intricate vinyl or iron-on projects, you might want to look into the BrightPad. This is another product I had the chance to try out at the Crafternoon. It's basically a lightweight, portable LED lightbox.
And, of course. If you haven't already guessed from reading the last few posts in this series, I have a craft crush on the Cricut Maker. This is Cricut's brand new machine (it just launched yesterday) that does everything the Cricut Explore machines do plus cutting fabric without a stabilizer. (If I added two hundred exclamation points here, would you hate me?) There's also a washable fabric pen and access to hundreds of sewing patterns to cut. I haven't tried the Maker yet, but I have chatted with a few of my friends who were able to try a sample before the launch. The news is good. But don't believe me, see for yourself!
What do you think? Are you adding the Cricut Maker to your wish list, too?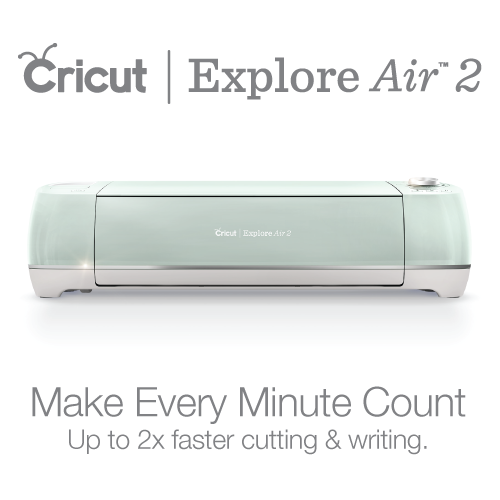 Giveaway
Isn't everything better with discounts and a giveaway? The folks at Cricut have put together a special coupon code for Underground Crafter readers AND a wonderful prize package! Use coupon code UNDERGROUND to get 10% off your purchase and free U.S. shipping at Cricut.com (excluding Access subscriptions, digital content, machines, EasyPress, and BrightPad purchases) through May 31, 2018. This is a great way to stock up on cutting supplies and tools. And, don't forget to enter to win a Cricut Explore Air 2, along with selected tools and accessories including the Cricut Deep Cut Blade, a set of Cricut Pens, a set of Cricut Tools, a trio of Cricut Cutting Mats, and Cricut Window Cling. This giveaway is open to readers in the United States, except where prohibited by law. Enter by 11:59 p.m. Eastern on Monday, May 28, 2018. One winner will be chosen at random from the entries submitted via the Rafflecopter widget. The winner will receive a Cricut Explore Air 2 machine, along with selected tools and cutting supplies. Good luck!