Do you love making portable crochet motif projects? Then you'll love this guest post by Shehla from The Blue Elephants! The Candy Shop Baby Blanket is a vibrant and adorable hexagon crochet baby blanket. Shehla shares her method for joining the hexagons to minimize the number of ends you'll need to weave in, too. There's even a helpful video at the end of the post!
This post contains affiliate links. I may receive compensation (at no added cost to you) if you make a purchase using these links. Photos in this post are © Shehla Ahmed/The Blue Elephants and are used with permission.
About The Blue Elephants
Shehla Ahmed started knitting and crocheting in high school with the help of tutorials on YouTube. Since then, she's created The Blue Elephants blog to share her designs and new projects, and to help others. You'll learn how to crochet, knit, and get access to patterns that are fun and modern – but more than that, you'll be part of a community of makers. A community of strong women who make things happen and empower each other to grow and share their unique gifts. Shehla's goal here is to guide and teach you how to take your passions and create a business with them, to find joy in doing what you love no matter what others think, and to reach for the things you want in life.
Show your support by following Shehla on Website | Etsy | Facebook | Instagram | Pinterest | Ravelry
Candy Shop Baby Blanket
Hexagon Crochet Baby Blanket Pattern by The Blue Elephants
Hello, everyone! I'm thrilled to be back here sharing another pattern. One of the first blankets I ever sold was the Hudson Baby Blanket and since then, it's still one of my favorites. It's modern and fun and easy to work, and I wanted to incorporate some of that into this new design. This pattern is for the Candy Shop Baby Blanket, a bright and colorful take on the original that's much faster to work up!
The inspiration behind this blanket is a candy shop here in Chicago called Dylan's Candy Bar. It's an explosion of color and when I walked into it for the first time, I felt giddy and excited and I wanted to take it all in. So, the colors I chose for this blanket are ones that feel like summer and childhood and candy!
These hexagons are all made separately and then joined together with some half hexagons using a continuous join. I did this join for the first time on this blanket and it's super easy once you see how it's worked. Rather than seaming each hexagon to its neighbor and then weaving in a million ends, I wanted to have as little extra work to do as possible. The entire joining and border only has 2 ends and 1 join where I added another ball of yarn.
Materials
12.00mm crochet hook
10.00mm crochet hook
#6 super bulky yarn – I used Paintbox Wool Mix Super Chunky in Buttercup (1), Spearmint Green (1), Marine Blue (1), Dusty Lilac (1), Bubblegum Pink (1), Candyfloss pink (1), and Stormy Gray (2)
Tapestry needle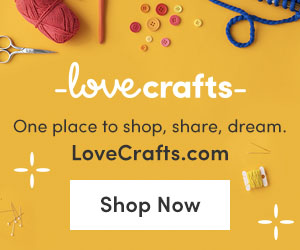 Abbreviations
BLO – back loop only
BO – bind off/finish off
ch – chain
DC – double crochet
FLO – front loop only
SC – single crochet
Pattern Notes
Skill level: Beginner
Sizing: 30" (76 cm) x 36" (91.5 cm)
Gauge: 2S x 1R per inch
Oombawka Design Crochet has a helpful magic loop/magic ring tutorial here.
Full Hexagon
Use 4 of the colors to make 6 full hexagons each, and 1 color for the half hexagons. The color you have the most of (Stormy Gray in mine) is for joining and the border.
Round 1: Start with a magic loop (see Pattern Notes) and secure it with a slip stitch. Ch 2 (count as DC). Work 1 DC into the magic loop. Ch 2 again. *DC 2, ch 2* 5 more times into the magic loop. You should have 6 sets of DC and 5 ch-2 spaces now. Slip stitch to the top of the ch 2 to finish the round. Then, pull the loop closed.
Round 2: Ch 2, DC. (DC, ch 2, DC) into the ch-2 space. *Skip the first space, DC 1, [DC, ch2, DC]* repeat around and slip stitch to the top of the beginning ch 2. (3 DC per side)
BO and weave in ends.
I have a video here of the large version of these hexagons. I modified them to be a bit smaller by skipping the first space and only working until round 2. This gave me exactly 6 hexagons from each ball.
Half Hexagons
Round 1: Start with a magic loop (see Pattern Notes) and secure it with a slip stitch. Ch 2 (count as DC). Work 1 DC. Ch 2, *DC 2, ch 2* twice more. Pull the tail ends to close the loop. You should have 3 sets of DC and 2 ch-2 spaces now.
Round 2: Ch 2, turn. * Skip the first space, DC 1, then (DC, ch 2, DC) into the ch-2 space* twice. DC 2, increase. (3 DCs per side). BO and weave in ends.
Joining
Now that you have all the hexagons made, arrange them in the order you like. You should have 6 rows with 5 ½ hexagons in each row.
Then with the smaller hook and your border color yarn, make a slip knot and chain 3 or 4 to start. Now, starting at the first blue (a half), work a line of slip stitches through the back loops only of the line marked in the photo.
When you get to the bottom, turn and pick up the color hex next to it (pink). Insert your hook through FLO of the gray stitch and the BLO of the pink and slip stitch through all the loops. Continue until you get to the top of the where the colors meet.
Now the pink and blue are joined, and the seam is flat! Continue in this way along the top two edges of the pink hex, join the pink to the next, and work your way down the row.
When your first row is all joined, turn the work and continue joining to the next row along the pointy ends and the gray slip stitches from the first row.
Follow the arrow until the entire blanket is in one piece. I have a video below that can walk you through how I did this.
At the corner of the last half hexagon, start to work a border around the whole blanket by working 1 rounds of SC around the blanket. BO and weave in ends to finish!
I love how this blanket turned out and I hope the joining tutorial helps you out! I'll definitely be using it in more projects now. Thanks so much for reading. If you'd like to see more blankets and toys, I'd love for you to stop by at my blog, The Blue Elephants, and take a look around.
© 2019 by Shehla Ahmed (The Blue Elephants) and published with permission by Underground Crafter. This pattern is for personal use only. You may use the pattern to make unlimited items for yourself, for charity, or to give as gifts. You may sell items you personally make by hand from this pattern. Do not violate Shehla's copyright by distributing this pattern or the photos in any form, including but not limited to scanning, photocopying, emailing, or posting on a website or internet discussion group. if you want to share the pattern, point your friends to this link: https://undergroundcrafter.com/2019/08/23/hexagon-crochet-baby-blanket-candy-shop-blanket-by-the-blue-elephants/. Thanks for supporting indie designers!