Veronika from Blue Star Crochet is joining us for the third in a series of guest post designs. Today, Veronika is sharing the Valentina Crochet Bed Runner! This is a great way to add a pop of color to your bedroom without making an entire blanket.
This post contains affiliate links. I may receive compensation (at no added cost to you) if you make a purchase using these links. Photos in this post are © Veronika Cromwell/Blue Star Crochet Company and are used with permission. Yarn for the sample was generously provided by Paintbox Yarns.
About Blue Star Crochet
Veronika Cromwell is the crochet fashion designer behind Blue Star Crochet Company. She was born in picturesque Slovakia but moved to the United Kingdom a few years ago where she lives with her husband, Darren, and sons, Jacob and Cole.
She was taught to crochet as a young girl by her mum, but it wasn't until she was expecting her son when she found a real passion for designing and creating patterns for garments and accessories for the whole family.
The lack of cool and fun clothes for boys has led her to come up with her own designs. She set up Blue Star Crochet Company in December 2016.
Her wide range of designs have since been published in all major UK crochet magazines including Inside Crochet, Crochet Now and Simply Crochet.
She set up Blue Star Crochet blog in May 2020 to enjoy creative freedom and share free patterns and tutorials.
Show your support by following Veronika on Website | Etsy | Facebook | Instagram | LoveCrafts | Pinterest | Ravelry | YouTube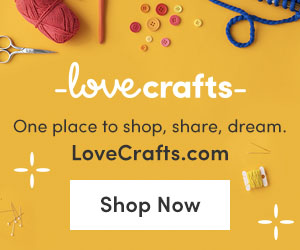 Valentina Bed Runner
Crochet Bed Runner Pattern by Blue Star Crochet Company
Do you love soft furnishings? I personally love adding new pieces to each room. My new Valentina Crochet Bed Runner pattern is another free crochet pattern.
I have always dreamt of a home filled with custom handmade pieces that are going to add a touch of class. I have designed this lovely textured bed runner for our bedroom. It has a little shabby chic feel to it, so this crochet bed runner fits perfectly.
I have opted for a turquoise shade of blue colour to complement the duck egg blue and cream colour combination of our bedroom. It has added a much needed pop of colour to the muted soft shades.
This crochet bed runner is super easy and quick. The pattern uses basic crochet stitches that are perfect for any beginner crocheter. It is a super quick make too, as I have used chunky yarn and 8 mm crochet hook.
I used Paintbox Yarns Simply Chunky in Marine Blue kindly gifted by LoveCrafts. This is a lovely acrylic chunky yarn that would make lots of lovely homeware projects.
If you fancy expanding your homeware crochet collection, I have the perfect matching cushion for this bed runner. I am talking match made in heaven! Check out the free Pinstripes Crochet Cushion pattern. It uses an interlocking crochet technique and if you haven't tried or heard of it, don't worry! I have made a video tutorial to guide you through and teach you the basics! Find the handy tutorial on the pattern page.
My Valentina Crochet Bed Runner has been designed for a double bed. However, the finished length can be easily adjusted by adding or leaving out a few rows in the middle section.
I used paired double crochet stitch sometimes referred to as closed V stitch. It essentially consists of working two double crochet in the space between two stitches on the row below. Some crocheters say it is a variation of a V st without the chains between (which is absolutely correct)
I have made a quick video tutorial to show you how to work this easy textured crochet stitch.
MATERIALS
Paintbox Yarns Simply Chunky (100% acrylic; chunky weight; 136 m per 100 g ball) x 10 balls in 333 Marine Blue
8 mm crochet hook
Yarn needle
Scissors
7.5 cm (3") tassel maker
FINISHED SIZE
60 cm (23.5") x 195 cm (77") to fit a double bed
TENSION
5.5 pdc x 5.75 rows measures 10 cm x 10 cm (4" x 4")
STITCHES AND ABBREVIATIONS (US CROCHET TERMS)
ch- chain stitch
dc- double crochet
fsc- foundation single crochet
pdc- paired double crochet- 2 dc worked in space between 2 dc on row below- A video tutorial for this stitch is available below.
puff st- puff st- (yarn over, insert hook and pull up loop) 5 times, yarn over and pull through all loops on hook
sc- single crochet
PATTERN NOTES
Patterns starts with a foundation single crochet which replaces the standard starting chain
The bed runner is worked in rows of paired double crochet with 3 rows of popcorn stitch to add even more texture
SIZE ADJUSTMENTS
The bed runner has been designed for a double bed
To adjust the size for single or king size bed, you will need to adjust the number of rows of the middle section between rows of puff st
Follow pattern until row 27 for all sizes
For single bed work 32 rows of pdc in the middle section. The bed runner will measure 135 cm (53") in length
For king size bed work 86 rows of pdc in the middle section, the finished length will be 230 cm (90.5")
Finish pattern by following pattern from row 87 to end for all sizes
MAIN PATTERN
Row 1: 67 fsc, turn.
Row 2: 3 ch (counts as first dc), (miss next st, 2 dc in next st) repeat across until last 2 sts, miss next st, 1 dc in last, turn. 32 pdc + 2 dc
Row 3: 3 ch, 1 pdc across, 1 dc into top of beg 3 ch, turn. 32 pdc + 2 dc
Repeat Row 3 another 18 times.
Row 22: 3 ch, (1 puff st into next pdc, 1 ch) repeat across, 1 dc into top of beg 3 ch. 32 puff sts + 2 dc
Row 23: 3 ch, 1 pdc into top of each puff st across, 1 dc into top of beg 3 ch, turn. 32 pdc + 2 dc
Repeat Row 22 – Row 23 another two times.
Row 28 – 86: as Row 3.
Row 87: 3 ch, (1 puff st into next pdc, 1 ch) repeat across, 1 dc into top of beg 3 ch. 32 puff sts + 2 dc
Row 88: 3 ch, 1 pdc into top of each puff st across, 1 dc into top of beg 3 ch, turn. 32 pdc + 2 dc
Repeat Row 87 – Row 88 another two times.
Row 93 – 112: as Row 3.
Row 113: 1 ch (doesn't count as a st), 1 sc in each st across.
FINISHING INSTRUCTIONS
Fasten off. Sew in all ends.
Using your tassel maker, make four 7.5 cm (3") tassels and attach one into each of the four corners. Sew in ends securely.
© 2021 by Veronika Cromwell/Blue Star Crochet Company and published with permission by Underground Crafter. This pattern is for personal use only. You may use the pattern to make unlimited items for yourself, for charity, or to give as gifts. You may sell items you personally make by hand from this pattern. Do not violate Veronika's copyright by distributing this pattern or the photos in any form, including but not limited to scanning, photocopying, emailing, or posting on a website or internet discussion group. if you want to share the pattern, point your friends to this link: https://undergroundcrafter.com/2021/01/13/crochet-bed-runner-valentina-by-blue-star-crochet-company/. Thanks for supporting indie designers!