I'm so excited to share the third (and final) post in the Ice Cream Socks series by ACCROchet! Julie has been sharing her Ice Cream Socks pattern with us in parts. Today's post shares the last part of the pattern, along with Julie's best tips for crocheting the heels on socks.
This post contains affiliate links. I may receive compensation (at no added cost to you) if you make a purchase using these links.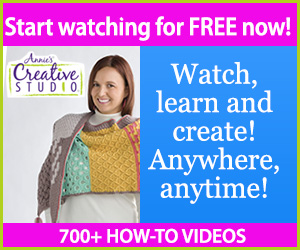 About Julie Desjardins
In French, ACCRO means addict. ACCROchet is therefore a play on words, to explain this crochet enthusiast's main motivation. ACCROchet is Julie Desjardins, a bilingual French Canadian crochet designer, who obviously enjoys puns. Julie's aim is to foster communities that value and recognize the artist's talent, time, and tools, and that want to surround themselves in those same luxurious elements.
Show your support by following Julie on:
ACCROchet Website | Facebook Page | Facebook Group | Instagram | Pinterest | Twitter | Ravelry
Ice Cream Socks, Part 3
Crochet Pattern (with tips for first time sock crocheters) by ACCROchet
The Heel
There are different methods to add a heel to a crochet sock. Two very basic ones are the short row heel, and the afterthought heel. Fun fact: Once you get going on your sock adventures, you'll be able to change almost any pattern to the heel you prefer, or a variation thereof. You'll also discover that there are many different heels one can use, and that you'll choose to best complement the sock you are crocheting.
The Ice Cream socks use the afterthought heel.
In the afterthought heel, you crochet the entire sock: toes, foot, leg, and border – while creating a hole onto which a heel will later be added. One major advantage of this heel is that when it becomes worn, as it likely will before any other part of the sock, you can simply frog it and replace it!
The afterthought heel will be worked around the opening created between the foot and leg, in rounds. Decreases at one or both sides of the sock give the heel its shape. Once the desired length is achieved, the work is finished off, and the remaining opening is sewn closed.
It may be helpful to think of the opening as having a top & bottom: top being the stitches on the leg, and bottom being the (often) equal number of stitches on the foot. In the Ice Cream socks, the decreases are evenly spaced, 2 per round: 1 on the top portion, and one on the bottom portion.
This way, the heel is well-balanced. You are now almost at the finish line with your crochet socks. Here is the last set of instructions!
Thanks to Marie for giving me this space to teach you guys about something I really really love to create.
– Julie
Notes from Underground Crafter:
Part 1 of this pattern, which includes a complete supply list and information for making a gauge swatch, is available here. Part 2 of this pattern, which includes the first part of the pattern and tips for making toes and feet, is available here.

This pattern uses standard U.S. crochet pattern abbreviations. You can find a master list of abbreviations here.
STITCH GUIDE
OPENING FOR HEEL
Ch 33*, sk 22 sts, sl st in next. Rounds will start here from this point on.
*Tip : If you are familiar with foundation stitches, you can fsc 22 instead and ignore the instructions to sk chs in the next round & Heel Round 1.
Round (24, 27, 30, 33): Ch 2, dc in ea dc to ch space, over chs work (dc in next 2 chs, sk 1 ch)11x, special join.
LEG
In stripes as established.
Rounds (25-33, 28-38, 31-44, 34-50): Ch 2, dc in ea st around, special join (see notes).
Round (34, 39, 45, 51): Ch 2, dc in ea st around, join with sl st in starting ch.
At the end of last round, change to PINK. Cut CREAM & GRAY.
TOP BORDER
Round (35, 40, 46, 52): Ch 2, dc in ea st around, join with sl st in starting ch.
Rounds (36-39, 41-45, 47-51, 53-57): Ch 2 (does not count as st), bpdc around 1st, bpdc around next, fpdc around next 2, *bpdc around next 2, fpdc around next 2. Repeat from * around, sl st to 1st bpdc.
 At the end of last round, change to PINK. Weave CREAM & GRAY ends in.
HEEL (all adult sizes)
With right-side facing, join PINK with sl st in 1st st* of heel opening. (*Hint: This will be the stitch at the very right, on the bottom of the opening)
Round 1: Ch 1, sc in ea st to chs, over chs work (sk 1, sc in next 2)11x. Do not join. Heel is worked in a spiral. 44 sc
Round 2 (dec): (Sc2tog in 1st 2 sts, sc in next 20)2x. 42 sc
Rounds 3-13 (dec): (Sc2tog in 1st 2 sts, sc to next dec)2x. 20 sc remain after last round – 10 on top, 10 on bottom)
At the end of last round, finish off keeping a long tail to sew heel shut.
FINISHING
Sew heel shut using your prefered method. Weave any remaining ends in, using them to close any gaps between sections.
Block & leave to air dry.
© 2018 by Julie Desjardins (ACCROchet) and published with permission by Underground Crafter. This pattern is for personal use only. You may use the pattern to make unlimited items for yourself, for charity, or to give as gifts. You may sell items you personally make by hand from this pattern. Do not violate Julie's copyright by distributing this pattern or the photos in any form, including but not limited to scanning, photocopying, emailing, or posting on a website or internet discussion group. If you want to share the pattern, point your friends to this link: 

http://undergroundcrafter.com/2018/04/20/crochet-pattern-ice-cream-socks-part-3-by-accrochet

Thanks for supporting indie designers!
Thank you, Julie, for sharing the Ice Cream Socks pattern with us! Show your support by visiting Julie at one of the following links:
ACCROchet Website | Facebook Page | Facebook Group | Instagram | Pinterest | Twitter | Ravelry